In November, over 450 people attended the Great Highway virtual community meeting hosted by Supervisor Gordon Mar alongside City staff to talk about the future of this open space. This was by far the most well-attended meeting with an amazing show of local neighbors. At the meeting, the City gave an in-depth background on the history of the Great Highway along with current data to show how the waterfront could transform into an amazing open space in the years to come.
The Upper Great Highway, from Lincoln Way to Sloat Boulevard, has been closed to cars since April and loved by all kinds of neighbors —  from those walking and biking to those creating art for this new community space. The City plans on keeping Great Highway an open street during the current health orders, but we've heard from neighbors that there are serious traffic concerns on nearby streets especially on the Lower Great Highway, the parallel residential street that is one block east of  the Great Highway. At the meeting, the SF Municipal Transportation Agency (SFMTA) promised to conduct more data collection, install more traffic calming devices in the neighborhood, increase outreach to neighbors, and begin neighborhood meetings in the new year so all neighbors are able to give their feedback on future changes with the Great Highway and Outer Sunset Traffic Management Project.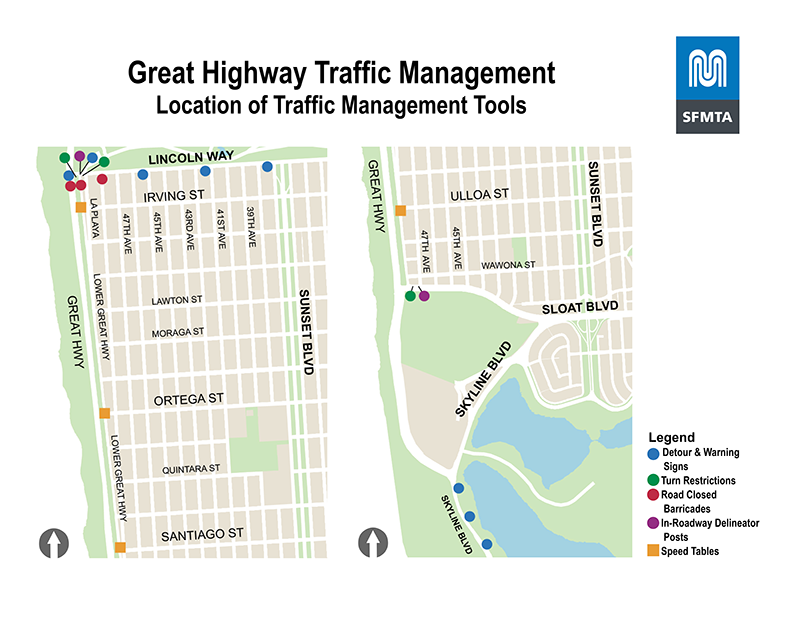 The SFMTA expects to host neighborhood meetings in the new year so we can figure out the near-term future of this beloved park space. With our members, neighbors and City planners at the ready, it's time for us to get to work. Can you help us advocate for the near-term and long-term future of the Great Highway in the new year? Sign up today to stay informed on the campaign and how you can plug in.
 
Let's transform the Great Highway!
Let's keep the momentum for the Great Highway going so we can create a better Great Highway together.